Horse racing betting is popular in the Philippines, with the industry contributing an average of P1.3 billion ($27 million) to the national coffers in the last decade.
This isn't just about being lucky or selecting a horse with a good name. It's tougher than that, and the way to be successful in this industry is through hard work and confidence.
From the basics to the strategies that will help you make better-educated picks, we've summed up everything you need to know in this guide.
What are the main horse racing betting types?
The truth is, there is a wide array of established horse racing betting types offered by different betting sites. In this portion, we have provided a comprehensive list of the most popular betting types and we explain what they mean. Make sure to bookmark this page so you won't forget!
The following bets are some of the most popular ones among the fans of horse racing betting:
| | |
| --- | --- |
| Win Bet. | One of the most popular horse betting types, a win bet allows punters to pick the horse they think will finish first in the race. Bettors only need to follow their chosen runner throughout the race and then commence their 'carry on' (also known as "celebrations") once they know it's home. |
| Each-Way. | In this type of betting, punters need to place an equal amount of money on a horse to win and place. If your pick becomes the winner, you will get your percentage of the Win dividend and Place dividend. On the other hand, if your choice ends up second or third, then you are only given a percentage of the Place dividend. |
| Place Only Betting. | This is another popular horse racing betting type, where punters need to pick a runner to end up either first, second, or third in the official rankings. There should be more than eight horses in a race to have a third place dividend. |
| | Also called the horse handicap race, this racing betting type requires each horse to carry a specified weight dubbed as the impost. It is assigned by a steward based on several factors like previous performances. The primary purpose of this type of bet is somehow to put the chances of punters into balance. |
| Exacta. | In this type of betting, the bet is placed on which horses will finish the race first and second, in the right order. |
| Trifecta. | This one is also a popular type of horse racing bet where punters choose the first three horses in a specific order. Trifectas usually pay big, making them among the top choices of punters, but they also come with a lot of risk. |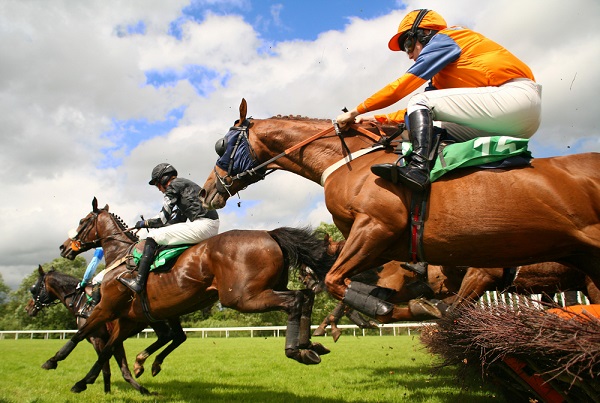 How to bet successfully on horse racing – strategies and tips
Now that you know the basic terms of horse racing, it's time to learn some key strategies and industry tips to level up your betting game!
There are a lot of ways to bet on a horse race. You can gamble online through your cellphone or laptop or visit a dedicated off track betting venue. Off track betting is any betting that occurs away from the horse racetrack which is hosting the live race. Whichever way you prefer, you need to learn some strategies to get started.
Here are tips to get you up and running:
1. Manage your bank roll properly.
The most important thing to remember in horse racing betting is being able to manage your cash and control your stake.
2. Be confident in your work.
One thing that puts punters in great peril is relying on pre-race comments. Jockeys have been branded as notoriously bad tipsters, so make sure to do your own homework and stick to your methods. Knowing the ins and outs of racing betting, including having a good grasp of whether a horse will stay a certain trip, could potentially save you from troubles.
3. Make sure to watch previous races.
Knowing how to read form is very important, as well as having enough knowledge that is not in the formbook. What's the key? Make sure to watch races repeatedly.
4. Discipline yourself.
Perhaps one of the most crucial strategies for long-term success is having discipline. If you want to take racing betting seriously, you need to make decisions hinged on thorough research. Having discipline also means that you don't chase losses. It's not always a sunny day, so don't feel bad about losing once in a while. Get back on your feet and redefine your punting style.
Major horse racing events
Given that horse racing is a very popular sport in the Philippines, horse racing betting is something Filipino punters don't want to miss.
There are three race tracks often used in rotation by the Metro Manila Turf Club, the Philippine Racing Club and the Manila Jockey Club. They are the following ones:
San Lazaro Leisure Park and Track;
the Malvar;
Batangas Racetrack;
Santa Ana Park.
Horses, jockeys, trainers, and owners utilize all three tracks for housing, training, and horse racing purposes. The biggest stakes races are:
Triple Crown Series;
Ambassador Eduardo "Danding" M. Cojuangco Jr. Cup;
Juvenile Championship.
With the advent of online horse racing betting, Filipinos can now bet on the most popular international horse racing events in the world such as:
Grand National.
The Everest.
Melbourne Cup.
Kentucky Derby.
Horse racing betting FAQ
In the end, we answer the most common questions all the newbies to horse racing betting might have. Before your dive, make sure to read them for you to get a good grasp of the most common queries in the industry.
What is In-play betting or horse racing live betting?
An in-play bet is something punters place while the event is taking place. Also known as live horse racing betting, in-play bets are used on other sports including tennis bets and football betting.
What is ante-post betting?
An ante-post bet is placed before the horse racing course's betting market has opened. Punters usually go for the ante-post betting with big expectations that the horse racing betting odds are considerably favorable compared to the market opening.
How can I place a horse racing bet online?
This is easier than you might think. Simply choose an online sportsbook that suits your horse racing betting style. Some bookmakers even have betting apps that make betting easy and super accessible. Once you sign in, just click on the race you want to wager in and select the horse you want to bet. Then you'll get to see the available betting options. Choose the one and enter your stake. Your betslip is ready to go.
Which are the best bookmakers to bet on horse racing?
The best bookmakers for horse racing offer a wide array of races to bet on anytime you want. The best bookmakers also showcase virtual racing for if the real thing does not somehow thrill you or for when no real races are ongoing. In horse racing betting, always make sure to read guides like those you can find on our website as well as punters' comments on bookmakers to get an idea of their quality of services.
Now you know more about horse racing and how to bet online in the Philippines, you can now start your research on the horses, jockeys, and events you want to bet on!